So I wanted to update you on my latest adventure into cloth diapering. I told you before that I was interested in it to help with Bradyn's constant diaper rash.
Alysha
from
The Tarr Pit
wisely advised me to begin with a cloth diaper trial so I could try out several kinds before buying a stash of one particular brand.
Here is a breakdown of the ones that I tried and what I thought of them.
Kissaluvs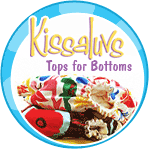 Description
: An AIO (all in one) diaper with one set of snaps that has a microterry insert sewn in.
Fit
: Very nice and trim
Look
: This one was a surprise in the box and it was so soft to the touch and I was really excited to try this one on.
Function
: I wish upon wishes that this one worked as well as it looked. It leaked 3 out of 3 times. It was awful. I was so surprised to find that it was highly recommended for newborns from a really good resource
All About Cloth Diapers
.
Price
: $12.95
Grade
:
D-
The only reason why this isn't an F is because its still super cute.
(Ok, when I re-read my instruction sheet, I didn't realize that there was a TON of tips on the BACK. DUH. One of the tips was to cover this diaper with the Thirsties cover. Yah, that probably would have helped. This still wouldn't have been one of my favorites though)
Thirsties Duo Pocket Diaper

Description: Pocket diaper with two inserts, one quick absorbing microfiber and one super absorbent hemp insert. Snap the two together at either end and stuff into the shell. Unique opening in the front allows inserts to come out by themselves in the wash. (I wish I had known that last part...)
Fit: It has inner gussets (a second leg lining) which was nice and overall it was an ok fit.
Look: At first glance it looked pretty cheap but it turned out alright, but certainly not the cutest diaper on the block.
Function: The first time I tried this one, it leaked, but I think it was my fault for not adjusting it correctly. Ever since, it has been fine.
Price: $17.50
Grade
:
C+
It was a decent diaper and really nothing necessarily wrong, it just wasn't my favorite.
Fuzzi Bunz
Description
: The original pocket diaper with snaps for fitting the waist and legs
Fit
: I didn't think that I would appreciate the snaps as much as I did. It made all the difference in the world for not a) making red marks on my baby girl's chubby legs, and b) fitting her buddha belly. This was a "perfect fit" rather than their OS (one size) so it was much less bulky and honestly became a perfect fit.
Look
: I like that these have an assortment of bolder colors. I just wish that it had more options for cute prints.
Function
: It never leaked and became one of my best day time diapers. I also read that it was highly recommended to use as an overnight diaper with a Flip insert to double the soakers, which I tried once and worked out perfectly.
Price
: $17.95 although currently Fuzzi Bunz is having an ovestock sale for $14.95! Score!
Grade
:
A
This quickly became one of my favorite diapers.
Description: BumGenius One Size fits 7-35 lbs. with crossover velcro including an absorbent one size micro terry insert + a newborn insert.
Fit: For being a OS it wasn't too bad, but it was still bulkier than I would prefer
Look: I got a sweet pink color and that may have persuaded me, but I thought it was cute. They just came out with an artist selection which is a little underwhelming.
Function: This was a great absorber and became my regular nap time diaper. Great function.
Price: $17.95
Grade
:
B+
The only reason I didn't give this an A was because of the bulky factor and flimsy velcro.
bumGenius V.3 AIO
Description: All in One diaper which means that the soaker is sewn into the pocket. The pocket still has an opening if you need or want to add in another soaker.
Fit: Same as the other bumGenius (see above)
Look: again (see above)
Function: This worked the same as the other bumGenius but for one disappointing flaw. Because it is an AIO it takes forever to dry. I think because of that I have decided I do not like AIO diapers. Plus I really like the option of using a diaper more than one time (with a change in the insert of course!)
Price: $15.95
SmartiPants
Description:

OS pocket diaper
Fit

: Since it is a one size it is bulkier than I prefer
Look

: Pretty cute. Nothing exceptional.
Function

: The insert has a pretty good absorption quality, not the best of the bunch, but certainly decent. I also really like the snaps.
GroVia One Size Hybrid
Description: The title says it all. The throw away inserts did not come in my trial. The inside double soaker snaps in.
Fit: Bulky
Look: I liked the deep purple color that I received. Other than that, nothing spectacular.
Function: While it came with a double organic soaker, it did leak nearly every time Bradyn wore it. It became very frustrating.
There were items that came in this trial that I didn't even try. It also came with bleached chinese prefolds, unbleached Indian prefolds, and a Snappi to help tie those prefolds. I just decided that if I was going to go cloth, I knew in my heart that I was going to be too lazy to fold up all the prefolds. I wanted it to be as simple as possible.
Remember that this was just my 1st trial. Post coming soon about my 2nd batch and what I thought about them.